Sometimes, care can't wait.
T.J. Urgent Care is for people who need immediate care, but do not require a visit the emergency room.
T.J. Urgent Care at the T.J. Samson Health Pavilion opens early and stays open late. It's even open on weekends and most holidays. Experienced, caring staff and providers are there to address illnesses and injuries with the same level of quality you expect from us, at a lower cost than at the emergency room. T.J. Urgent Care helps reduce wait time for all patients by providing them a more direct route to the exact care they need.
Is it urgent or an emergency?
Minor burns
Coughs, colds, or sore throats
Ear infections
Fever or flu-like symptoms
Rash or other minor skin irritations
Mild asthma
Animal or insect bites
Minor fractures
Minor cuts that need stitches
Chest pain
Severe difficulty breathing
Severe bleeding that doesn't stop after 10 minutes
Head trauma
Loss of consciousness
Sudden loss of vision or blurred vision
Facial drooping or weakness in arm or leg
Persistent vomiting or diarrhea
Any sudden or severe pain
Suicidal thoughts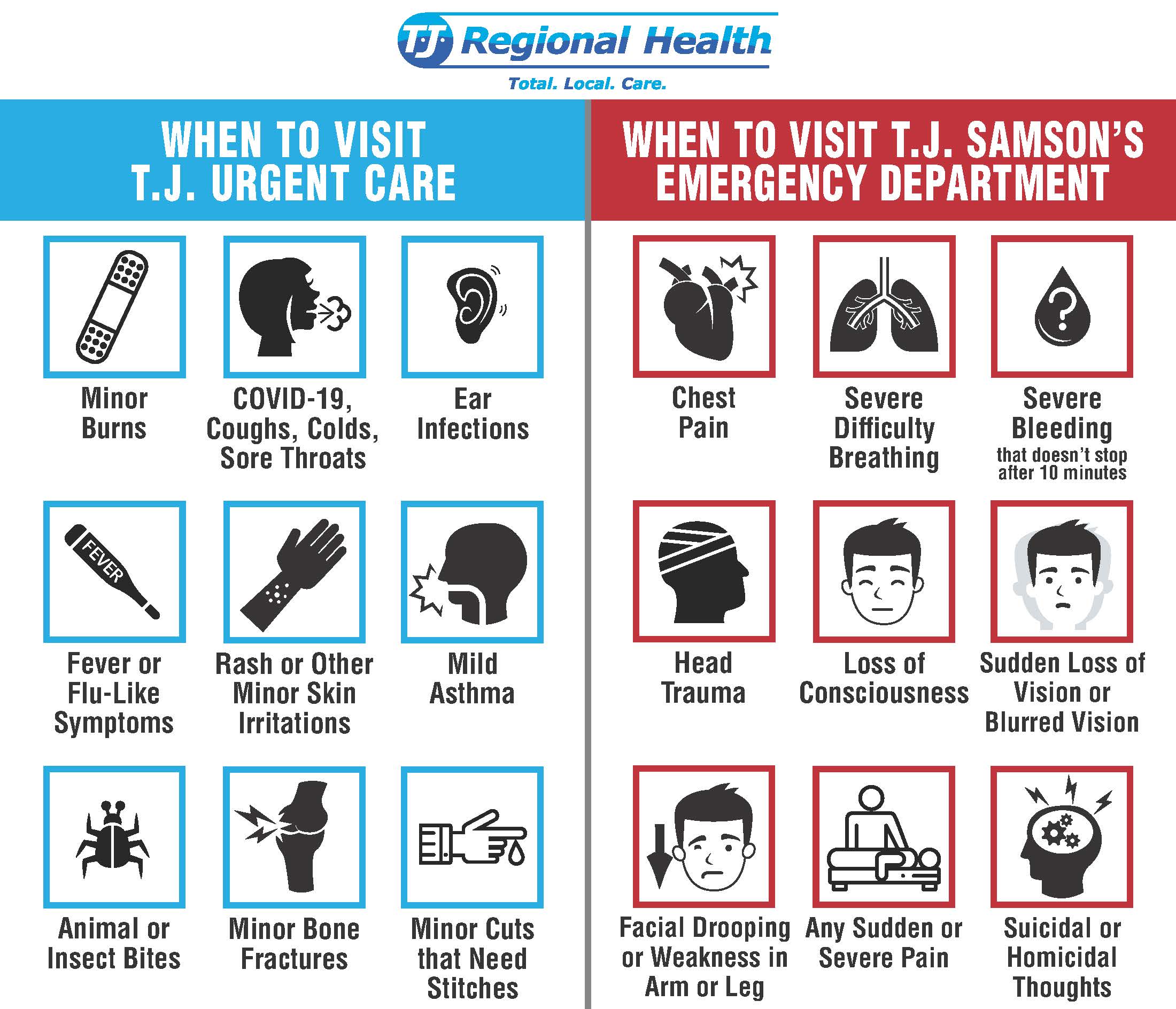 What people are saying:
"Dr. Combs-Royse was very patient with my two year old while she examined her. she was very sick and scared but Dr. Combs made her very comfortable."
"I cannot say enough about all of our staff from screening immediately entering urgent care with chest pain. I was treated immediately with professionalism, kindness, & concern. I was hesitant to go by ambulance to the hospital but I again was treated with utmost respect & care. I am proud to be a part of TJ staff. I commend everyone who attended to me & those who just showed concern in the area. When we as coworkers are the patient, it shows how meaningful we really are. Thank you Urgent Care."
"Everyone was very kind and professional."
"The best urgent care in town!"
"excellent professional caring nurses"
"The Male RN I had is great you can tell he passionate about his job."
"There was always concern for keeping me comfortable. Everyone I had contact with was very professional and concerned for me."
"I was really impressed how smooth the check in process was. The staff was very professional and concerned with keeping everyone safe and distanced. Waiting room was very clean."
"Was so pleased with Beth. She was absolutely wonderful. Knew her business ver well!"